ISO 9001 – The World's Most Popular Quality Management System Framework
Focussing on the quality of the products and services that you supply to your customers is becoming increasingly important in sustaining long term business success and retaining market share. Certification of your business to an internationally-recognised standard by an independent external assessment body demonstrates your commitment to providing your customers with first-class products and services, and provides your organisation with global recognition.
The International Standard ISO 9001 is the world's most popular quality management system framework with over one million organisations in over 175 countries certified to its requirements. ISO 9001 can be implemented into any organisation as it doesn't depend on size and it is not tied to any specific field of activity. The standard's focus is on the use of risk-based thinking to drive success through improved customer satisfaction, motivation of personnel and continual improvement.
Benefits of an ISO 9001-Compliant Management System
Operating to management best-practice standards will help you to:
Promote international recognition and trade
Enhance marketing and increase profits
Improve customer satisfaction levels
Gain access to, and maintain a presence in, your target markets
Gain and retain a competitive edge
Increase your rate of repeat business
Create a more efficient and effective operation
Improve personnel motivation, awareness and morale
The latest version of the standard, ISO 9001: 2015, was published in September 2015 and is the new yardstick against which businesses interested in "quality" are measured. To assist organisations with the implementation of an ISO 9001-compliant management system, we've developed a number of learning tools, one of which is 'The Five Pillars of Quality'TM concept.
The Five Pillars of QualityTM are:
1. Management review and communication
2. Document and record control
3. Dealing with nonconformity (stuff going wrong)
4. Implementing actions that change the management system
5. Conducting internal audits.
The Pillars are built upon a foundation stone of Competent Personnel and are capped by committed Leadership. These learning tools have contributed to the fact that no company with which we have worked has ever failed to reach the standard that it set out to achieve.
Would you Like Assistance Transitioning your Existing Management System?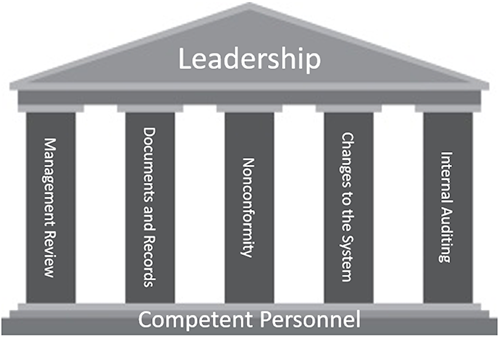 "*" indicates required fields